Every month, most people go through two phases.
It's like two different sides of your personality, that simply take turns.
These phases are known as: "before payday", and "after payday".
Before payday, you feel like you've been poor your whole life (ironically, you're wiping your tears on that expensive new Zara shirt you bought a couple of weeks ago).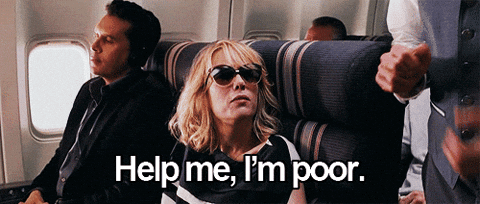 You then reflect on your past and be like: "No Carol, you shouldn't have bought your cat a Halloween costume because it was on sale back in August" or "Eh, maybe I didn't need to buy 3+1 boxes of Ben and Jerry's ice cream".
Continuing, you make a promise to "sort yourself out this time". A phrase you've been repeatedly saying since the beginning of your adulthood life.
Struggling to stay alive with what's left of your salary, the day you are finally blessed by the payday gods arrives.
Firstly, you pay your bills like the dignified grownup you are (well, not really, you just want to get that out of the way).
Then, you remember the tough, broke times you managed to survived the past 2 weeks.
You decide to give yourself a small gift "from you to you", for all that mental anguish that left your poor soul traumatized.
That small gift, however, ended up being 36 small gifts, drinks with your friends (which you paid for because Ariana Grande's "7 Rings" song was on) and ordered take out dinner pretty much every other night.
Things go from bad, to better, to worse all too quickly.
It feels like your money literally evaporated, and got you feeling like this:
The cycle then turns, until your account is blessed again with cash.
Now, what if I told you, that there's a little someone who can help you save money and take actual control of your finances? (While, of course, you can still enjoy the payday gods' gifts.)
Someone that can give you a nudge whenever you're overdoing it, and help you put things in place?
Someone who can help you treat the princess (or prince) living inside your soul, and make savings at the same time?
Then say hello to Cleo!
Who's this?
As mentioned in our previous article "How Artificial Intelligence Is Changing The Face Of Banking", "Chatbots are one of the fastest-growing applications and use cases of artificial intelligence through semantic engines."
Cleo is an AI-powered chatbot.
This chat-bot is basically an app that you give access to your bank accounts. (Don't worry, she is just observing, she doesn't actually mess with your balance!)
How does this work?
After connecting Cleo to your bank account, she analyzes your spending, collects data to create dynamic budgets, and with a range of awesome tools, can help you get your balance back up.
According to Dr Annamaria Lusardi at the George Washington University School of Business, in the US, 92% of 18 to 37-year-olds use finance apps mostly to track spending and pay bills.
Cleo is not the "typical" chat-bot though. Nah-ah.
She can be hilarious and brutal at the same time, and you can contact her via Facebook messenger!
Through straight talk and a massive sense of humour, she helps you create a different, strong relationship with your money in ways banks don't.
Cleo also keeps an eye on things, like when your balance is low, or how much you've spent on dinner. She can literally answer anything regarding your money, provide breakdowns on your spending and even gives you tips to improve.
But wait, there's more!
Cleo also provides high interest, automatic saving, cashback rewards, interest-free salary advances, weekly money games and quizzes, insight into your daily, monthly and weekly spending habits, and (if you have what it takes) roast mode: the most entertaining way to not be broke.
How Safe is Cleo?
Cleo claims to be safe on a whole other level.
According to Cleo's website, "Ridiculously safe. We use bank-level encryption and never save any of your information. Nada. Not your login. Not Your password. Nothing. We're also backing your account up with a $250k guarantee. If the unthinkable should happen, we'll cover it."
You can view more info on Cleo's security policies here.
How Does Cleo Make Money though?
Very simply put, Cleo offers alternative services that can be cheaper.
For example, if you are spending a certain amount on your electricity bill, Cleo will calculate if it's too high compared to the average user.
Then, she will suggest an alternative electricity supplier.
Assuming you sign up with her suggestion, Cleo makes money from that service, and you also save money.
As an example, you can see the below screenshot given by Liam Smith in his blog post about Cleo.
Want Cleo to be your friend?
According to Silicon Valley analytics company App Annie, "Global downloads of finance apps hit 3.4 billion in 2018 – that's 75% more than three years ago"
This shows that more and more people are starting to use finance apps and services like Cleo or Revolut.
In an interview with the BBC, Reykjavik-based Georg Ludviksson, chief executive of FinTech firm Meniga, stated that "people who start using finance apps spend 7% less on average in the following six to 12 months."
Additionally, according to Rufina Gafeeva in Cologne, who researches how technology changes our spending behaviour, "If you're constantly reminded how much you've already spent, it becomes more painful to pay for the next item".
Unfortunately, however, concerns still exist when it comes to this new finance-handling technology.
According to Dr Lusardi, one-third of 18 to 37 year-olds in America who use such services, at some point did become overdrawn in comparison with only a fifth of non-app users.
Even so, the technology exists to make our lives more efficient, no?
The way each person chooses to use it, it's really up to them.
Therefore, it is each person's responsibility to not depend solely on finance apps, but use them in order to improve their actual finance management.
Regardless, we are super excited to witness how Cleo evolves even further, and hopefully, this service will expand.
Our broke days might soon be behind us!