It's almost December, and the weather is getting colder day by day.
In some places of the world, it already started snowing.
As I slip on a warm, over-sized jumper and soft fluffy socks, I watch FRIENDS on Netflix (for the millionth time), next to the fireplace with a cup of hot chocolate in my hands, and curl up in a woollen cosy blanket on the couch.
It's beginning to look a lot like Christmas, and my life just got better.
I mean, its called the most wonderful time of the year for a reason, right?
Colourful fairy lights everywhere on the street are reflecting on the busy stores' windows and cars passing by.
Christmas movies on almost every TV channel, kids in choirs walk and sing holiday songs in the city's centre and at malls.
Santa Clauses, elves, reindeer are found all over the place, and my heart is filled with pure joy.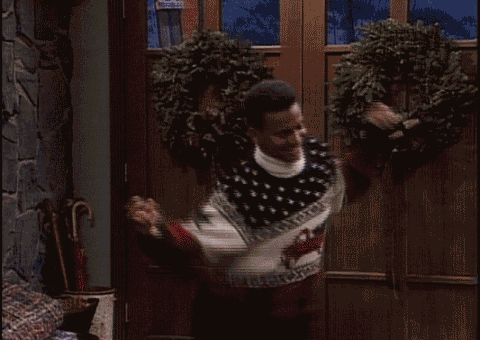 Of course, something that makes as all jolly is the fancy wrapped-up gifts we receive on Christmas day.
Most of us (including myself) spend a lot of quality time picking out the absolute best presents for our loved ones.
Since I'm really feeling the Christmas spirit this year, I picked out some of the coolest tech gadgets you can buy this Christmas!
I don't promise, however, that you won't want to keep everything for yourselves. ?
Here we go!
Apple Airpods with Wireless Charging Case
Apple keeps coming up with awesome cool tech that we can't get enough of.
Put an end to tangled up earphones, and get someone these sleek Airpods this Christmas! The latest model comes with new H1 chip for even better call quality, Siri access (handsfree) and also charges wirelessly.
If you get an Apple-fan this for Christmas, they will definitely love you forever. I know I would!
Apple Watch Series 5
Since we are already on the subject of "Apple-lovers" this is another impressive Christmas gift you can give (or keep) this year.
The latest smartwatch by Apple is here, its upgraded and it's beautiful.
It has an "always-on" display, which means you don't have to lift your arm up every time you want to check something on it.
Additionally, this feature won't drain the battery as the previous ones.
It comes in different colours, and you can even wear it with a steel case/bracelet.
Logitech Brio webcam
This is a perfect gift for computer enthusiasts.
This really cool 4K HDR streaming, 5x zoom, 60 frames per second streaming at 1080p webcam by Logicom also has infrared recognition which is perfect for services like Windows hello.
The "Tesla of webcams" is made of sleek metal and glass, which would give any computer an upgraded tech-look.
Animal Cable Bites
These mini plastic animals will give your charger cable a "cuteness overload" vibe. There are 15 different animals that can decorate your chargers, and it's a really cool gift for both kids and adults!
Oculus Quest
Introduce a loved one to the ultimate virtual reality experience with the Oculus Quest. I've personally used this awesome VR gadget and oh-my-God.
It's completely wireless which means you can freely move around without any cables hanging here and there. There are literally tons of games you can play (I suggest the Beat Saber game, its like fruit ninja but to music and with "obstacles")
Besides looking like Robocop which is cool, you can have fun and work out with this awesome gift!
Oral-B Genius X
Okay now, wait. I know what you're thinking. Who gets someone a toothbrush for Christmas?
But that's the thing, this isn't just a toothbrush. It's a genius toothbrush!
We've been seeing AI used everywhere these days, from kitchen supplies to gadgets we use in our daily lives.
Oral-B stated that AI for its toothbrush has "learned from thousands of brushing styles" in order to direct users to improve brushing.
"It tracks areas in the mouth that wasn't brushed enough, and areas with too much pressure, which it displays in an accompanying app."
It also tells you how to whiten your teeth in two weeks, how to fight bad breath, protect your gums and tons more other stuff.
Welcome 2020 with the best smile ever!
Echo Show 5
The Echo Show 5 would make a great gift this Christmas for pretty much anyone.
Besides sitting on your nightstand, the smart display connects to Alexa, and its high quality 5.5" screen sets alarms, reminders, on-screen lyrics with Amazon Music, shows the date, news stories, movie trailers, checks the weather and traffic.
On top of all that, the sleek looking compact device also makes video calls!
VicTsing Shower Speaker
Many of us don't simply sing in the shower. We perform!
If you know someone who pretends they're on the X-Factor when taking a shower, this is the perfect gift.
The VicTsing shower speaker has 5W drive, suction cup connects on any device via Bluetooth, and it can resist anything from a spray to a splash.
It supports incredible high-quality stereo sound with full range output and can last up to 6 hours playing time at the volume of 70%.
Get ready for some serious concert-shower-like performances!
Nest Cam Security Camera
Turn into the "Big Brother" while you're away from home, with this 24/7 home monitoring system!
This amazing security camera can keep an eye out on your behalf when you're away and sent an alert directly to you if the motion or sound alarms go off.
You can even listen or talk to your pets when you miss them or when they're doing something they shouldn't, and it also has night vision!
iRobot Roomba 980
We have finally reached a point in life where smart-tech can get many things done fast, and efficiently.
This, however, actually makes me want to cry from happiness!
The vacuum of the future is called: iRobot Roomba 980and it's wonderful.
The wireless robot will vacuum up almost anything (without falling down down the stairs by the way) and you can schedule it when to clean.
If you're at work per se and decide to invite friends over after work, you just schedule it through the app and it will take care of the rest.
Additionally, it will automatically recharge itself when it's done.
Whoever created this, I can't thank you enough, and I'm sure if you get this for someone this Christmas, they won't know how to thank you either!
Holy Stone Drone 
Like, who wouldn't want this for Christmas?!
The Holy Stone Drone has GPS assisted flight that will provide you with positioning details of your drone.
It also has a built-in RTH (return to home) function that makes it safer because it will return home automatically, especially when the battery is running low or the signal is weak.
Additionally, its optimized 1080P 120° FOV FPV Wi-Fi Camera with 90° Adjustable angle, captures high-quality video and aerial photos!
All I Want For Christmas is TECH!
When it comes to tech gifts, there are countless options to choose from and it always depends on the person's preferences as well.
But we always have your back, so, there you have it!
The ultimate tech-gadget gift list for this year with the latest (and greatest) of what's out and trending now that will please all types of tech enthusiasts!
You can find these awesome gifts at almost all electronic stores, and of course online.
Hope you all have a lovely, tech-y, merry Christmas!